Urgent care centers play a vital role in providing efficient and convenient healthcare services to millions of patients annually. However, the smooth operations and financial success of these centers heavily rely on accurate medical billing and coding practices. In this article, we will explore the significance of medical billing services in urgent care clinics, the potential consequences of inaccuracies, and the latest guidelines that impact reimbursement. Let's delve into the crucial aspects of medical billing in the context of urgent care.
The Importance of Accurate Medical Billing
Accurate medical billing is essential for the productivity and profitability of urgent care centers. Inaccuracies in billing and coding can lead to claim denials, delayed payments, and even potential legal and compliance issues. Just like an ambulance service recording incorrect details in their report, inaccurate paperwork in urgent care centers can result in billing errors and non-payment, hindering the financial viability of these facilities.
The Growing Significance of Urgent Care Centers: 
With approximately 89 million patient visits annually, urgent care clinics have emerged as an essential component of the healthcare ecosystem. They account for 29% of primary care visits and nearly 15% of outpatient visits in the United States (as per 2023 research). These centers offer efficient and convenient care, ensuring patients are seen quickly, with over 70% of them waiting less than 20 minutes and 85% receiving treatment within an hour.
Key Updates in Medical Billing and Coding Guidelines: 
Staying abreast of the latest medical billing and coding guidelines is crucial for medical billers and coders, particularly those serving urgent care centers. These guidelines ensure accurate coding and billing, facilitating appropriate reimbursement and preventing overpayment.
Place of Service (POS) Code Updates:

The Centers for Medicare and Medicaid Services (CMS) have updated the POS code for urgent care centers to 20, specifically tailored to these facilities. This update directly impacts coding and billing practices, ensuring accurate classification and reimbursement for services provided.

Evaluation and Management (E/M) Code Updates:

E/M codes are essential in depicting the level of care provided by healthcare providers. Recent updates to E/M codes cater specifically to urgent care visits, enabling more precise coding and consistent reimbursement rates.

Emphasis on Electronic Claim Submission:

To reduce errors in claim submission, CMS has implemented a new policy emphasizing electronic claim submission. This streamlines the process, ensuring efficient and accurate billing practices.
Navigating the Coding Process: 
Effective urgent care billing and coding processes begin from the moment patients step through the clinic's doors. From pre-registration to gathering patient data and utilizing Electronic Health Records (EHR), The Medicator's LLC ensures smooth operations and simplified processes within urgent care facilities. These practices enhance efficiency and optimize the revenue cycle management.
Exclusive 'S' Codes for Urgent Care Facilities: 
Urgent care facilities benefit from specialized codes starting with the letter 'S.' These codes, recognized by many healthcare providers, cover evaluation and treatment (S9088) and fees for services provided (S9083). Compliance with specific Managed Care Organizations (MCOs) may mandate using code S9083.
Utilizing Category 1 CPT Codes: 
In urgent care billing, Category 1 CPT codes hold primary significance. They cover a wide spectrum of healthcare services, including evaluation and management, surgical procedures, radiology services, pathology evaluations, lab tests, medicine prescriptions, and anesthesiology services. These codes form the foundation of urgent care billing, ensuring accurate and effective reimbursement for services provided.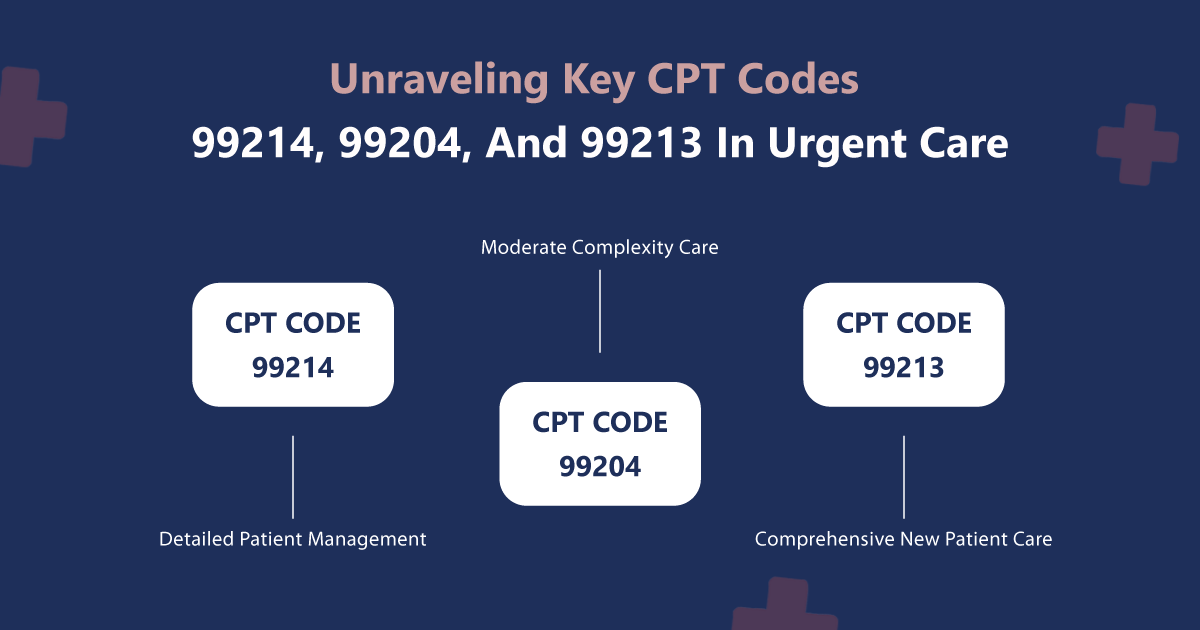 Documentation and Coding Best Practices: 
To ensure compliance with new guidelines, urgent care providers should follow best practices, including:
Detailed documentation of patient complaints, history, physical examination findings, diagnostic tests, and treatment plans.

Accurate utilization of CPT codes and modifiers to report services.

Complying with Health Insurance Portability and Accountability Act (HIPAA) regulations to protect patient information.
The Consequences of Inaccurate Billing and Coding: 
Upcoding (billing for a higher level of service than provided) and downcoding (billing for a lower level of service than provided) in urgent care billing and coding can have significant consequences. Fraud and abuse charges may result from upcoding, while lost reimbursement may occur due to downcoding. Therefore, accurate coding is paramount to maintaining ethical and profitable operations.
Also Read:
Strategies for Compliance and Efficiency: 
To optimize revenue cycle management and ensure timely reimbursements, urgent care providers can:
Stay Informed:

Remain proactive by staying up-to-date with the latest CMS regulations that specifically impact urgent care clinics.

Implement Certified EHR Systems:

Leverage certified Electronic Health Record (EHR) systems specifically designed to streamline medical billing and coding processes in urgent care settings.

Seek Expert Assistance:

Partner with certified medical billers and coders who possess the expertise and experience to navigate the complexities of claims management within urgent care clinics. Outsourcing these services can enhance efficiency and accuracy while reducing administrative burdens.
Outsourcing Medical Billing and Coding:
Considering the complexities involved in medical billing and coding, many urgent care centers choose to outsource these services to specialized providers. Outsourcing can streamline revenue cycle management, improve accuracy, and allow healthcare providers to focus on delivering quality patient care.
Conclusion: 
At The Medicator's LLC, our commitment to accurate medical billing and coding services ensures seamless operations, compliance with guidelines, and maximized revenue for urgent care clinics. By leveraging the expertise of our dedicated team and staying updated with the latest industry regulations, we enable our clients to focus on delivering quality patient care while optimizing their financial success. Experience the difference of streamlined revenue cycle management with The Medicator's LLC.